Product Description
This KNEELING MAT is the ideal solution to eliminate sore knees. With its closed-cell nitrile cushion that is almost an inch thick, it makes working on your knees much more comfortable. Its portability makes this mat great for anyone who moves from place to place performing work tasks.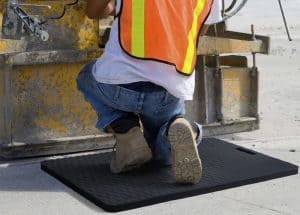 Product Features
7/8" thick, 100% nitrile rubber base
Electrically conductive
Reduces knee trauma and low back stress
Grease and oil proof
Built in handle
Cleans easily with soap and water
Closed-cell nitrile cushion
Will not absorb liquids
Comes in 2 sizes - 12" x 22" and 18" x 30"
Applications:
Bus Garages
Contractors
Fleet Operations
Hospitals
Municipalities
Industrial Plants
Utility Companies
Housing Authorities
Wastewater Treatment Plants
Document Download Center